Pick Your Own Fun: Houston Farms for Fruit and Berry Picking
The intoxicating smell of freshly picked berries can only mean one thing: sweet
spring
(and
summertime
) is upon us! And what better way to take advantage of the season's freshest fruit than by picking it yourself? Instead of purchasing pre-packaged strawberries, blueberries and blackberries at the grocery store, take a trip out to one of these "you-pick-it" farms and gather them yourself by the bucketful. Not only will you be getting berries straight from the source, you'll also be supporting small farmers and creating memories with your kids that will last a lifetime.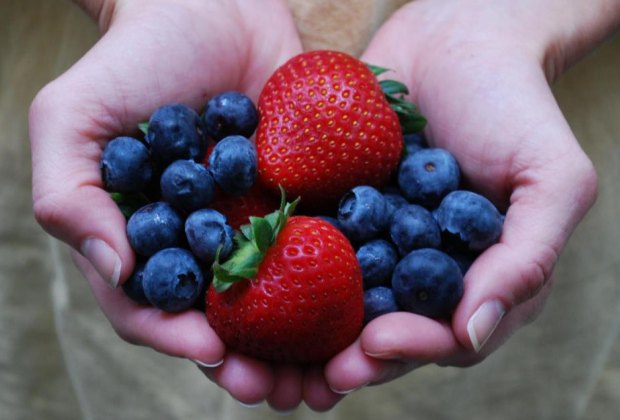 Photo courtesy of Blessington Farms
Atkinson Farms - Spring
3217 Spring Cypress Road, 77388
832-381-8202
Atkinson Farms invites families out for strawberry picking during peak strawberry season, promising some of the freshest and best-tasting berries in Houston. Additionally, the farm grows seasonal produce year-round, which can be bought on site and at local farmers' markets. Check the website for what fruits and vegetables are available each month. The farm season runs from March 1- October 31 yearly.
Jollisant Farms - Plantersville
11351 County Road 203, 77363
936-894-2766
Jollisant Farms offers strawberry picking in the spring, blackberry picking in the summer, pumpkin picking in the fall, and seasonal fruit and vegetable picking year-round. The farm also hosts field trips and has fishing opportunities, a small playground, and a picnic area. You can bring your own bucket or take advantage of the farm's picking buckets
(available by request)
. We love this place because it does not use pesticides or chemicals on its fruits and veggies!
Blakelock's Berries - Grangerland
15761 FM 3083, 77302


281-685-7225
Blueberries and blackberries abound at Blakelock's Berries, and starting mid- to late-May and continuing through June they are ripe for picking! Customers can bring their own buckets or use the ones provided. Blakelock's also provides containers to transport berries home.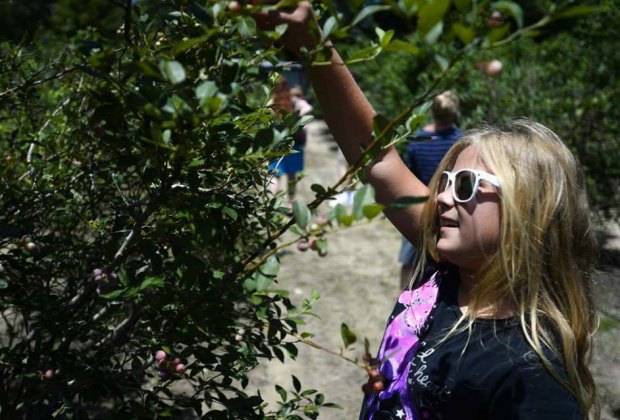 Photo courtesy of B&M Farms
B&M Farms - Silsbee
2345 Blueberry Patch, 77656
409-385-1200
If you're looking for fresh blueberries, look no further than B&M Farms, where you can eat while you pick. The farm specializes in providing high-quality Texas blueberries May through July and is open for both you-pick-it and pre-picked purchases.
Moorhead's Blueberry Farm - Conroe
19531 Moorhead Road, 77302
281-572-1265
With over 20 acres and 20 different types of blueberries, you can be sure that you're going to leave with a good haul when you visit Moorhead's. Water and soft drinks are available for purchase, and containers for picking are provided. There are also picnic tables on the property, so pack a lunch and make a day out of your blueberry picking experience. Hours and days open vary by season and availability, so call ahead of time before heading to the farm. Be advised that Moorhead's only accepts cash or check as a method of payment.
Blackberries of Houston - Cypress
19531 Cypress Church Road, 77433
281-373-5357
Blackberries of Houston grows thornless blackberries that are ripe for picking in late May and throughout June. Customers are supplied with a one-gallon bucket and a free container to take the blackberries home. It is recommended that you call before you come to check hours and farm conditions.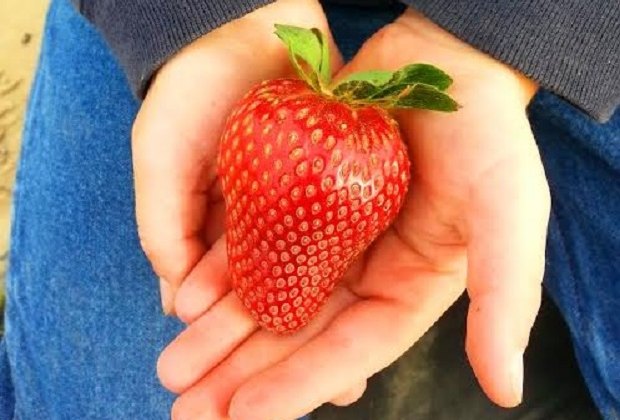 Photo courtesy of P-6 Farms
P-6 Farms - Montgomery
9963 Poole's Road, 77356
936-597-6062
Head on over to P-6 Farms for "u-pick" strawberries, blackberries and seasonal fresh produce. No outside buckets are allowed, but the farm does have buckets available for purchase that can be reused each visit. For every five pounds of strawberries picked, a paid admission fee will be credited back at checkout. While you're at P-6 Farms, you can check out their hayrides and seasonal family activities, as well as get up-close-and-personal with their farm animals.
Chmielewski's Blueberry Farm - Hockley
23810 Bauer Hockley Road, 77447
281-304-0554
Seven different blueberry varieties span eight acres of farmland at Chmielewski's, so you can expect a tasty haul when taking advantage of the "pick your own" option at this farm. Buckets for picking blueberries and plastic bags for transporting them home are provided, however you can bring your own containers as well. Don't feel like picking or didn't get as much as you wanted? You can also purchase fresh, pre-picked blueberries by the gallon or half-gallon. Picking season begins in late May and lasts approximately six weeks. Hours vary based on weather and availability, so call before coming.
Matt Family Orchard & Nursery - Tomball
21110 Bauer Hockley Road, 77377
281-351-7676
April marks the opening of picking season at Matt Family Orchard & Nursery, with blueberries kicking things off in April and May. Blackberries take over once blueberry season ends, then Jujubes, Asian Pears, Figs, Asian Persimmons and citrus all follow in succession. The farm also offers picnic facilities, a playground, sporting equipment, educational tours, evening hayrides and campfire sing-alongs. All picking supplies are provided. Call ahead of time for current picking times and fruit availability.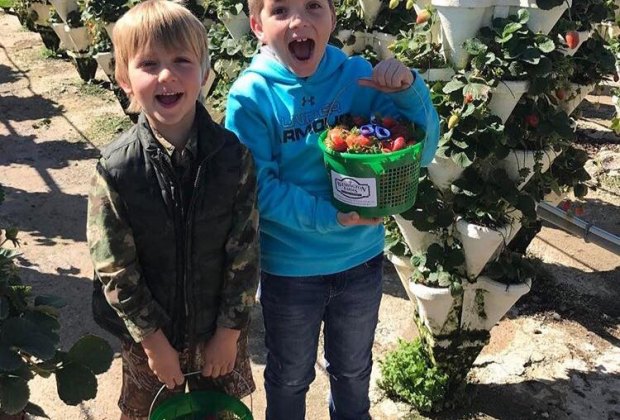 Photo courtesy of Blessington Farms
Blessington Farms - Simonton
510 Chilsom Trail, 77476
832-444-8717
The strawberries at Blessington are ripe for picking December through May, then blackberries and blueberries take over in May and June. Picking begins at 10 a.m. and closes at noon or when the pads are picked over, whichever happens first. There is no admission fee for anyone coming solely for berry picking; general admission fees are charged for those wanting to pick berries and play at Farm Funland. For the most up to date information regarding berry picking, call the farm before your visit.
Berryland Farms of Texas - Winnie
2877 FM 1941 Rd, 77665
713-551-6360
Beginning in May each year, Berryland Farms offers customers "u-pick it" for blackberries, blueberries, tomatoes, and vegetables. The farm is open to the public on weekends during berry season, which runs from mid-May to mid-July each year.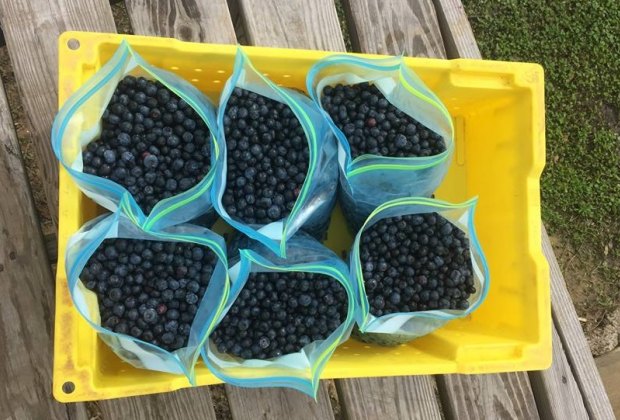 Photo courtesy of B&M Farms
Thomas Family Ranch - Sealy
12753 Hahn Road, 77474
979-865-9796
This family-owned farm offers blackberry picking late May through mid-June. The farm is also home to thoroughbred horses for sale that are beautiful to look at during berry picking visits. It is suggested that guests call the ranch before heading out to check farm conditions and hours of operation.
Froberg's Farm - Alvin
3601 W. Hwy. 6, 77511
281-585-3531
Beginning in January and running through late May, Froberg's Farm opens up its strawberry fields for picking every day from 9 a.m.-5 p.m., weather permitting. No outside buckets are allowed; however reusable buckets are available for purchase for $1
(cash only)
. After you're done strawberry picking, stop by the country store to pick up fresh jams and jellies, homegrown fruits and vegetables, pies and more.
While the $1 buckets are cash only, the strawberries and other purchases made at Froberg's can be paid for with cash, check or card.
Fruit 'N Such Orchard - Dickinson
6309 Avenue U, 77539
832-443-6733
Starting in late April, Fruit 'N Such Orchard in Dickinson offers blackberry picking. Pricing varies yearly depending on plant growth. This family-owned farm also features pick-your-own citrus fruits, peaches, and assorted vegetables throughout the whole year.